Overdiagnosis: A Harmful Search for Harmless Findings?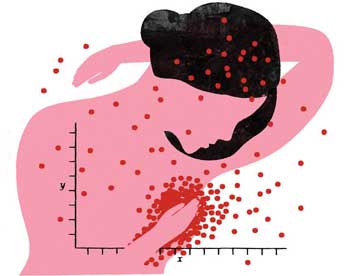 image credit: Keith Negley
---
Please click links below for extensive research on:
Breast Cancer, Mammography, HRT, and The Risks of Overdiagnosis.
Message from Dr. Winnifred Cutler:
" Overdiagnosis is defined as the accurate diagnosis of a real disease, like cancer, that if never discovered or 'found', in its early stage would never have caused a serious problem. The woman would have lived out her life without knowing she had the "disease"; it would not have caused any distress. Unfortunately these overdiagnosed women become victims, subjected to stress, toxic 'treatments', radiation, and surgeries that harm rather than help the quality of their lives."
Review/click the links below for extensive research on Breast Cancer, Mammography, HRT, and The Risks of Overdiagnosis:
The Public Library of Science - In September, 2020 PLOS published Dr. Cutler and colleagues' coauthored findings that 94% of pre and postmenopausal women with no prior diagnosis at enrollment remained cancer-free over 25 years: Long term absence of invasive breast cancer diagnosis in 2,402,672 pre and postmenopausal women: a systematic review and meta-analysis.
Reaction from Isaac Schiff, C.M., M. D. Distinguished Professor of Gynecology, Harvard Medical School Sept 12, 2020
Winnifred: "I am thrilled for you and of course for the readers of your article. It will change what I tell my patients. CONGRATULATIONS!!! I am so proud of you and what you have done.
THANK YOU----Isaac"
Isaac Schiff, C.M., M. D.
Joe Vincent Meigs Distinguished Professor of Gynecology Harvard Medical School Chief, Vincent Department of Obstetrics and Gynecology, Emeritus Massachusetts General Hospital, 55 Fruit Street, Founders 5, Boston MA 02114
---
International Menopause Society Meeting 2018: "Screening for Breast Cancer--Is it Worth it? Current Controversies" Dr. Cutler's invited lecture. Dr. Cutler presented data of widespread overdiagnosis and the harms of over treatment that justify asymptomatic menopausal women and their advisors consider rejecting screening mammograms because they generate substantial harm without any demonstrated benefit.
Athena Institute received this message Aug. 2, 2018 from Christiane Northrup, MD:
"Please let Dr. Cutler know how much I appreciate her and her work. Also her gift of pheromones which I use and recommend. This latest information on the overdiagnosis of breast cancer is priceless. I will cite it in my updated version of WOMEN'S BODIES, WOMEN'S WISDOM and THE WISDOM OF MENOPAUSE which I am currently working on.
With gratitude Christiane Northrup"
---
Breast Cancer Screening Frequency Update 2016: by Dr. James Kolter M.D., FACOG. Published in the Winter 2016 issue of Chester County Medicine
The Public Library of Science - 2015: Invasive Breast Cancer Incidence in 2,305,427 Screened Asymptomatic Women: Estimated Long Term Outcomes During Menopause Using a Systematic Review June 2015. Startling new finding that less than 5% are at risk of diagnosis of invasive breast cancer over their next 25 years of life. Coauthored by a scholarly team of 2 biologists, 2 gynecologic surgeons, a psychologist and a mathematician.

Reaction from Janet Haas, MD, Chair of the William Penn Foundation in Philadelphia. June 28, 2015:
"Congratulations, Winnifred! This is amazing-- really very, very impressive! To have screened so many studies for inclusion criteria, then worked with >2.5 M women is remarkable, really robust--as is the 25 year timeframe, essentially virtually till death for many.
I agree with your comments about hazards of over diagnosis; that has been true in prostate CA as well. With so much morbidity as a result, as you point out. Good point also about unnecessary screenings inducing radiologic effects. I thought your comments on potential limitations were thorough as well and supported the robustness of your study.
It will be great if this helps to change practice. I for one have been cutting back on frequency (though I haven't eliminated mammograms altogether yet, but now I better think more about this)! Thanks for sending the link, and congratulations! Janet"
An Opinion from the General Counsel of Athena Institute - 2015: Patients Should be Informed of Mammogram's Negatives
Climacteric - 2013: Mammography for symptomless women - not so wise? In June 2013. Dr. Cutler and coauthors' Burki, Kolter, and Chambliss -- short review published in the journal of the International Menopause Society.
In Focus: Mammography screening in symptomless women may do them more harm than good. In January, 2013. Dr. Cutler and coauthors' Burki, Kolter, and Chambliss -- commentary published in online e-mail release to International Menopause Society members.

Logical Measurement Methods Yield Lower Breast Cancer Risk - In April 2012, Dr. Cutler presented a scientific poster at the annual meeting of the Society for Behavioral Medicine; co-authored by Regula Burki, M.D., James Kolter, M.D., and Cathy Chambliss, Ph.D.

Menopause Live: Mortality reduction by widespread screening: not quite as effective as we all hope? In November 2011, the online newsletter of the International Menopause Society printed and circulated the commentary, ... on breast cancer, mammography and overdiagnosis by Dr. Cutler and coauthors Drs. Burki and Kolter.

Climacteric - 2011 - Overdiagnosis may further diminish mammographic breast cancer benefits minimized by elegant study. In April 2011, the International Menopause Society journal, published the paper by Drs. Cutler and Burki; previously printed in the society's e-newsletter, Menopause Live in December 2010.

Climacteric -2010 -- 'A public health paper on breast cancer incidence that does not withstand scrutiny' (With Dr. Regula Burki) In December 2010, the International Menopause Society journal, published Dr. Cutler's invited review of a published paper showing breast cancer seemed to decrease when the 2002 WHI study and subsequent media caused women to stop using HRT. *also printed in the society's e-newsletter, Menopause Live in August, 2010.

Hormone Replacement Therapy and the Risk of Breast Cancer; Dr. Cutler's message and content from her 1990 paper published in the journal, Infections and Surgery, explaining it is still current and relevant -- the science suggests that a carefully chosen, long-term "right regimen" of sequential hormone replacement therapy is beneficial to most women

Breast Cancer in Postmenopausal Women: What is the Real Risk?
In October 2009, Dr. Cutler's presented her powerpoint presentation and talk at the 65th annual meeting of the American Society of Reproductive Medicine (ASRM)
HRT and Your Breasts; from Chapter 10 of Hormones and Your Health; What women should know about the benefits of HRT and the research on breast cancer, mammograms, and overall breast health.
Taking Hormones For Good Health - from Chapter Two, explains why you will benefit from Hormone Replacement Therapy; the right regimen.
A Bibliography of Dr. Cutler's Published Work
See other books and papers written by Dr. Cutler
" My research has consistently focussed on what behavior a woman can engage in to increase her power, well-being, and vitality."
--Winnifred B. Cutler, Ph.D.
---
Dr. Cutler's pheromone science has been "bottled" into vials of unscented fragrance additives that increase wearers' sexual attractiveness. AVAILABLE FOR PURCHASE HERE
---