Winnifred Cutler Receives Outstanding Alumni Award From Ursinus College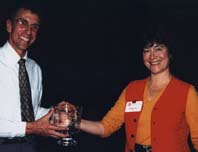 ---
Collegeville, PA. Oct. 12, 2001
Dr. Winnifred B. Cutler, President and Founder of Athena Institute for Women's Wellness, Inc. was given Ursinus College's Alumni Award for outstanding personal and professional achievement in the alumni awards ceremony at the Collegeville, Pennsylvania campus.
---
Dr. Cutler graduated with a bachelor of science degree cum laude from Ursinus in 1973. Ursinus College, founded in 1869, is a highly selective, nationally ranked, coeducational liberal arts college 28 miles from Philadelphia on a 160 acre wooded campus. Ursinus is one of only 8% of US colleges to have a chapter of Phi Beta Kappa.
In accepting the award, Dr. Cutler praised the work of Ursinus President John Strassburger and noted that Athena Institute had hired many talented Ursinus undergraduates as interns for the Institute. She stated:
"Athena Institute's CREDO is expressed as follows: When a woman refuses to be treated with disrespect and condescension, she becomes empowered to evaluate options and make intelligent choices. By doing the work of learning about her body and improving her health habits, she is in a position to assert her power. Power begets dignity. Dignity is essential to well-being."
"Finally," she concluded, "with a thought relevant to Sept. 11th and to reversals you may personally suffer...here is what Pericles told his Athenians in his famous oration in the Pelopennesian War:
To face calamity with a mind as unclouded as may be.... And greatly to react against it, that---in an individual and in a nation---is real strength. " "
In 2005, Dr. Cutler offered a short essay on her transformative experience at Ursinus to college President John Strassburger:
When I matriculated in 1971 as a "non-traditional student", I was a 27 year old married mother of two young school aged children. (Part of my non-traditional status meant not being a sorority girl who dated the football captain.)
I can recall distinctly walking to class on that beautiful campus with its open, friendly atmosphere. Everyone you passed said, "Hello" and smiled. Admittedly, some traditional students may have figured I was a teacher and decided to play it safe; but I was only 7 years older than the other juniors, so probably not.
Although I had always loved school, my "transforming experience" at Ursinus was as a psychology major doing an independent research study. In the early 70's students who had high grades were invited to accept the challenge of developing an independent research project. I might never have considered the possibility of becoming a research scientist but for this project. It was so much fun that I became hooked on the thrill of being able to investigate and discover "how things worked", develop an hypothesis and an experiment to test it, analyze the data, and prepare a writing in the formal method of science. To be able to make a contribution to knowledge is the fire that was ignited in me with that project.
In those days, self-esteem in women was a major sociological topic. I designed an experiment to see if I could use behavioral methods to help a group of young women improve theirs. I did not know it then, but we were doing "group cognitive therapy", and the results compared to a control group showed it worked. The women in the "manipulated group" began speaking up in class, asking questions, offering answers, at a rate that was unusually high.
Mentally scrutinizing and graphing data analytically to derive supportable hypotheses certainly was a different intellectual journey than studying the work of others. The creativity that it sparked, and the will to study how the effort of changing behavior leads to changes in endocrinology were thrilling for me, and still are.
After graduation in 1973 from Ursinus, I earned my Ph.D at the University of Pennsylvania continuing my research in the field of reproductive biology. A post-doctoral Fellowship in Behavioral Endocrinology followed at Stanford. Returning to Penn as a Research Associate in Gynecology in 1986, with colleagues I was fortunate to discover the existence of human pheromones. I think the key to what eventually led me into pheromone research and subsequently to discover and develop human sex attractant pheromone products began at my little college in Collegeville, PA, a gentle place in the country with a supportive, but rigorously academic, atmosphere filled with good will and warmth.
In 1986, I left Penn and founded The Athena Institute for Women's Wellness Research where I am still the President and CEO. (And I must report that we have hired a steady stream of wonderful Ursinus students who have admirably helped in Athena's research as well as clerical duties.)
Ursinus was a major inspiration for my love of science---especially my field of behavioral endocrinology.
I think a good scientist tries to look unblinkingly at all the pertinent data inductively to see where they lead. And stop in her thinking process repeatedly to ask: What does this mean? Are the establishmentarian assumptions upside down? Who is the Emperor's Tailor? If a single study doesn't find the needle in the haystack, does it mean that it really is not there?