Trouble with involuntary loss of urine is acknowledged by more than half the women in a health-conscious, mostly well-educated population of presumably healthy women. The proportion of women experiencing incontinence remains relatively constant but the severity increases with age. Similarly, the incidence and frequency of nocturia increase with age. Pelvic muscle strength drops by age 50. Multiparity, poor pelvic muscle strength or endurance, and postmenopausal status are the most common associates of S.U.I. in an otherwise healthy woman.
Although only recently studied in "well" populations before menopause, the incidence of S.U.I. is clearly large enough to support investment in products and services attempting to meet women's needs; surgery, diapers, drugs, and other therapeutic modalities.
When the Stanford Menopause Study was designed in 1978/79, involuntary urine loss had not been identified among the cluster of symptoms of either the menopause or perimenopausal transition. The classic "Kupperman Menopausal Index" was described in JAMA on contemporary therapy of the menopausal syndrome in 1959. Kupperman had identified a cluster of symptoms characteristic of the menopause that were responsive to estrogen replacement therapy. These symptoms included: vasomotor instability, parethesia, insomnia, nervousness, melancholia, vertigo, weakness, arthralgia and myalgia, headache, palpitation, and formication.18 Conspicuously absent was S.U.I.

Table 2. Perineometry Scores are Poor Among Incontinent Women (Chi-Square = 4.8 P = < .025)a

Urinary incontinence is compared to the perineometric pelvic muscle strength of 57 women. Fifty-nine percent of women whose strength is poor (tonic strength was < 5.7 microvolts of endurance was < 5 seconds) report S.U.I. compared to 29% of women with better EMG scores.
Within our first 6 months the Athena data showed that involuntary loss of urine was unexpectedly pervasive among women after age 30. Because a Medline search in mid 1990 revealed that no prospective data in healthy women had been published, we subsequently developed a detailed stress incontinence questionnaire that was provided to every woman entering the Athena Wellness Program after December, 1990. We closed the database in June 1991. (These data, in part, were presented at the North American Menopause Society's second annual meeting in September, 1991.)
In May 1990, Nygaard et al. reported on exercise habits and incontinence prevalence in 326 gynecologic patients spanning a similar age range to ours.19 In their sample, 47% acknowledged S.U.I. – a figure that is comparable to our 52% prevalence rate.
Our cross sectional finding of significantly lower pelvic muscle strength in the afternoon supports Kegel's untested perception. This result appears to differ from a 1991 report by Dougherty et al. that found no variation in time of day in their repeat measurements of "flick" strength of the circumvaginal muscles.20
However, the Dougherty study is not directly comparable to ours or Kegel's because they tested only 5 subjects of widely divergent ages, at 4 specific times of day, and used a peak "flick" score that reflects the aberrantly highest score an individual can momentarily achieve. A "flick" score does not reflect tonic muscle strength. It is the tonic strength that showed a relationship to incontinence. The four times they chose may not reveal a cyclic variation in strength if it were occurring in the other, untested hours. Our own finding of an afternoon dip in scores, followed by an evening return to equivalently high levels of the morning may suggest something comparable to the afternoon slump in energy so commonly experienced by many adults.
Future investigators should use repeated measures, as in the Dougherty study, but focus on strength ("holds") rather than "flicks" and test at more hours in order to test for a circadian cycle.
Long-term hormonal replacement therapy use was rare in the Athena Wellness population. Some women had recently begun hormonal therapy but very few were taking it at the time of testing. The 15 women who "currently use" hormone replacement therapy (HRT), showed no higher level of perineometric strength than those of the same menopausal age not taking hormones, but small samples, (and variation in timing of HRT) render these data inconclusive.
In 1951 Arnold Kegel, M.D. provided the first objective data (in JAMA) describing a highly effective physiologic therapy for S.U.I.1 In that classic paper, he demonstrated that the impaired status of the neuromuscular structure could only rarely be traced to congenital anomalies or disease of the spinal cord.
Kegel created a method, "vaginal perineometry," for testing pelvic muscle strength using a device, the "Kegel perineometer" that he invented. It consisted of an air cone that was inserted vaginally and connected to a pressure sensitive transducer. Women without S.U.I. who had normal muscle tone, upon contraction of their vaginal muscles recorded scores between 30 and 60 mm Hg on Kegel's perineometer. In contrast, women with S.U.I. showed either poor or absent muscular function; readings of 0 to 5 mm Hg were common.
FIG. 4. Pelvic muscle endurance vs. age. Pelvic muscle endurance scores (the number of seconds a woman can hold muscular tonus at or about 50% of her own maximum) are plotted on the vertical axis against the age of each of 100 subjects.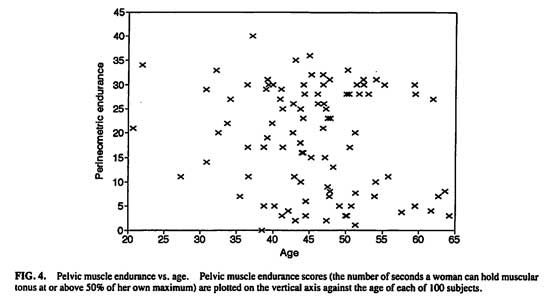 Kegel subsequently used the perineometer to therapeutically provide "real-time" biofeedback of contractile force of the muscles as patients generated contractions. He suggested that early childhood toilet training or some other early behavior had caused a lack of normal development of self control over the muscle system responsible for urinary containment. Reeducation was the goal.
Working with patients individually, he had them practice contracting their pubococcygeal muscles until a perineometric response was elicited. Once they learned how to trigger perineometric response, he prescribed 3 bouts a day of 100 contractions each with the perineometer to build muscle strength. Once off to a good start, he suggested adding another 150 a day without the perineometer. Each contraction was held for several seconds and interspersed with a relaxation period.
Kegel reported complete relief in 6 to 8 weeks if the problem was of the simple type; 75% of his 500 cases were of the simple type. In 1956, he reported that 86% of 455 patients undergoing training at his perineometer clinic were cured by physiologic, nonoperative therapy. Age was irrelevant provided cognitive function was present. He also noted that 50% of these women had had a previous pelvis repair operation.2
FIG.5. Pelvic muscle strength vs. age.EMG-measured muscle strength (in microvolts) is plotted on the vertical axis against the age of each of 100 subjects. Mean strength drops after age 50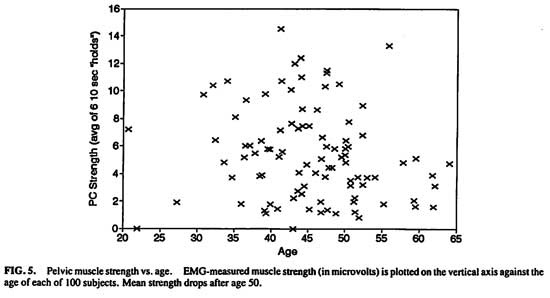 FIG.6. Nocturia among well women and age. The horizontal axis plots the age of 60 women against the vertical axis showing the number of times each woman gets up to urinate in the night. Nocturia becomes increasingly common after age 30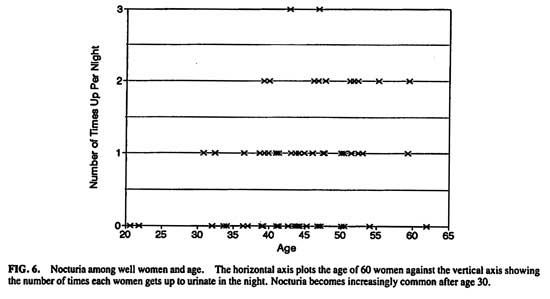 In spite of this positive launch, reported in JAMA in the 1950s, surgeons continued to perform surgery to "repair" S.U.I. with limited success.21 Biofeedback was tedious and the Kegel perineometer was not commercially available. By the late 1980's with the development of an EMG perineometer, and commercial availability17 a series of research papers, often written by nurses, began to appear. These reports confirmed that pelvic muscle training was effective in reversing S.U.I. under a variety of conditions.3-12
Variations in training methods appear to account for variations in success. Women were most successful in overcoming S.U.I. when they had objective biofeedback using the score that was shown concurrent with their work of contracting their pelvic muscles. Failure to provide this biofeedback to women tended to produce ineffective results notwithstanding long periods of physician or a nurse time invested training patients through digital manipulation.5,8 Although the number of contractions per day that will optimize results and minimize unnecessary work remains to be determined, Kegel's quantity, which set the highest demands produced the highest success rates.
Further studies with perineometric training showed that the use of vaginal balloons or other resistance devices is irrelevant when pelvic muscle training with objective biofeedback is provided at least weekly for about six weeks.6 Although vaginally placed cones of varying weights have recently been studied for use in training women to create sufficient muscle tension to retain ever heavier ones, the success rate with their use is modest6,10,11,12 compared with the purchase price ($140) and the better results obtained with perineometric biofeedback.1,2,8,17 When resistance devices placed in the vagina were added to biofeedback, they did not cause any problems. They just did not add to the effective results.
In summary, because stress urinary incontinence appears to be so pervasive, is related to multiparity, is reflected in poor perineometric scores, and is corrected with perineometric feedback training, S.U.I. testing should be made routinely available. A simple questionnaire test would alert the practitioner to S.U.I.'s presence.
We recommend that clinicians and other investigators be especially alert to screening for S.U.I. in women who are multiparous or menopausal. The Agency for Health Care Policy and Research, in 1992, recommended guidelines for the treatment of all forms of incontinence including S.U.I. They called for the use of (1) behavioral methods, (2) drugs and, (3) surgery, in that order, for the treatment of S.U.I. When anatomical defects are not etiologically related to neurological procedures, and in the absence of obvious disease, such as Multiple Sclerosis, the patient should be referred to a biofeedback specialist for pelvic muscle training as a first step.
Physicians should educate patients about the potential cure through correctly executed pelvic-muscle-strengthening exercises. It appears possible that by retraining their pelvic muscles, women can regain their freedom from the inevitable discomfort associated with loss of control. We estimate that this routine health assessment would improve the quality of life for many women. Controlled studies comparing different forms of biofeedback by the same investigator would improve our understanding of the current options and their relative efficiencies.