Athena Institute Pre-med Hospice Volunteer Program: Over The Years
---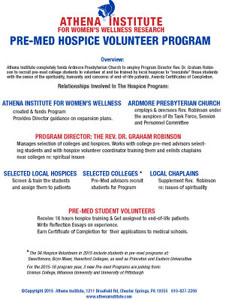 Click IDEAGRAM here
to see full size

The Athena Institute Pre-Med Hospice Volunteer Program... has evolved, and improved, since it was founded in 2007.
*Read 2015 Graduates' Reflection Essays*
(click here)

From it's inception, the comprehensive ideagram on the right clearly outlined the process and the players of this mission-based program. As the program progresses year by year, coordinators and students may change but the ideagram remains constant as a model of the program, 'how it works'.

The ideagram helps implement the overall mission: Athena Institute believes that this grant and program will help inspire students to embrace a holistic understanding of the person, and how aging impacts choices, as they study and begin to deliver medical services that often focus heavily on the 'immediacy' of saving lives in surgery, intensive care units, and emergency rooms. Some may even decide to choose geriatric medicine as their field, a specialty that is presently under-served.
In 2015-2016:
In 2015-2016, 170 Pre-Med students applied to the Pre-Med Hospice Program from Princeton University, Haverford, Bryn Mawr, and Swarthmore College, Villanova University, Eastern University, Ursinus College, and University of Pittsburgh. 80 students were trained by six Hospices to care for Hospice patients. During the year, the Pre-Med volunteers were supported and shepherded by college chaplains and pastors who helped the students navigate the spiritual complexities of death and loss. Increasingly, the Pre-Med Hospice Program embraces and disseminates the expertise of the universities, Hospices, Chaplains, patients, and students to transform future doctors and create a world where compassion is more common and healthcare more humane.
In 2014-2015:
In the 2014-2015 academic year, the Pre-Med Hospice Program will add two new Pre-Med Hospice learning partners and include Princeton, and Eastern University. Additionally, dialog with Ursinus College and the University of Pittsburgh will be initiated with the hopes of including Pre-Med students from these excellent schools in the 2015-2016 academic year.

In 2013-2014:

In April 2014, The Athena Pre-Med Program moved its "church home" to Ardmore Presbyterian Church [APC] led by Pastor James Hodsden. The APC Session received the Athena Institute's Pre-Med Hospice Grant and approved hiring the Rev. Dr. Graham Robinson to serve as a Parish Associate at APC. Serving as APC's Parish Associate, Rev. Robinson will continue his work as Program Director of the Pre-Med Hospice Volunteer Program, facilitate a grief care and support group at APC, participate in APC worship periodically, and offer pastoral assistance when needed.
In May 2014, 18 premed college Sophomores, Juniors, and Seniors at the University of Pennsylvania, Bryn Mawr, Haverford and Swarthmore Colleges completed the Program. Their reflection essays can be viewed Here.
In 2012-2013:
This session we were excited to welcome a new Director of the Athena Institute Pre-Med Hospice Volunteer Program: the Reverend Graham Robinson. Introduced to the program by Reverend Charles Grant, Bryn Mawr Presbyterian, we are grateful to have Rev. Robinson - who brings his exceptional education and spiritual leadership background; Master of Theology 1999, Master of Div. 1993, Princeton Theological Seminary, and twenty years of pastoral care and teaching experience.
This session was a clear success, with Rev. Robinson and the guidance and enthusiasm of Ms. Michelle Whipple, Hospice Volunteer Director at Main Line Health of Jefferson University Hospitals, and The Home Care Network. Sixteen students from Bryn Mawr, Haverford, and Swarthmore were accepted, and fifteen graduated from the program. As the continued goal of the program, all volunteers submitted suggestions for improvement which the coordinators considered. And furnished full essays on their experiences with their patients.
In 2011-2012:
This session marked a re-configuration of coordinators. The result was a success for both coordinators and students, and concluded with fourteen students from Bryn Mawr, Haverford, and Swarthmore being awarded a certificate of completion for their honorable achievement in hospice care.
For this year's session, we applaud the wonderful organization, enthusiasm, and efforts of the main coordinators including; Reverend Louisa Watkins Umphres, Pastoral Resident, BMPC, and Ms. Michelle Whipple, Hospice Volunteer Director at Main Line Health of Jefferson University Hospitals. Please read the students essays (click here).
In 2010-2011
Reconfigured in June 2011, the program partnership has benefited immensely from the tremendous, continuing efforts and enthusiasm of the Reverend Joyce Krajian, Director of the Middleton Center at Bryn Mawr Presbyterian Church, Reverend Louisa Watkins Umphres, Pastoral Resident, BMPC, and Ms. Michelle Whipple, Hospice Volunteer Director at Main Line Health of Jefferson University Hospitals.

In 2009-2010:


In 2009, Pastoral Staff were leaving their interim assignments and could not invest their time to maintain the program. Ms. Whipple did keep a fledgling group going, even without the reflections that allow the premed students the spiritual perspective that appears to provide a critical link.
In 2008-2009:
This year marked 24 students enrolled in the program, which was under the name Athena Institute's Educational Caring Initiative Foundation Grant Agreement at this point. The progress continued with coordinators from Jefferson Hospital and Bryn Mawr Presbyterian, Rev. Wes Avram, Rev. Rob McLellan and Ms. Janet White, Director of Ministry, Stewardship and Foundation, and Ms. Michele Whipple. After a slower start, the outreach picked up steam and the program recruited enthusiastic volunteers from three area colleges.
In 2007-2008:
Athena Institute for Women's Wellness Research in Chester Springs, PA is pleased to award its Hospice Grant in the total amount of $50, 000 to the Bryn Mawr Presbyterian Church Foundation (BMPC) for the specific use of a collaborative hospice project. The goal of the project is in keeping with Athena Institute's mission of working to improve the quality of healthcare for women - and here, to instill in pre-med students a sense of humanity and understanding towards the geriatric patient and 'end-of-life' care through hospice service. The goal is also consistent with the church's plan to expand its activities to the spiritual interests of local college undergraduates.
And prior to the grant and program with BMPC...
APRIL 2006 - Athena Institute grants award in support of the first Athena Pre-Med Hospice Project to the Senior Independence unit of Ohio Presbyterian Retirement Services.In keeping with our mission to improve the quality of healthcare for women, Athena Institute awarded funds to the Ohio Presbyterian Retirement Services Foundation Senior Independence unit to enlist college premed students to volunteer time to hospice services.
With this grant, Athena Institute foresees the initial development in Central Ohio as a pilot program that could be modeled in other church-related hospice services, funded by subsequent awards from Athena Institute.
These services provide hospice care to all persons regardless of religious beliefs, race, creed, or national origin. The Ohio Presbyterian Retirement Services is the largest not-for-profit provider of senior services in Ohio.

REFLECTION ESSAYS
Concluding each year, the program graduates are asked to submit their 'reflections' in essays… we hope you find reading their feedback as rewarding as their own experiences suggest they did. Please click here for each student's essay (names omitted).


---
For More Details on the Hospice Program click here
*Athena Institute previously awarded a hospice research grant to the Ohio Presbyterian Church in 2006.