Study By Athena Institute Shows Sex During Menses May Be Harmful
Synopsis for a Lay Audience

*Please click on links within text below for details and/or studies in full.
*Please click here for more on pheromones and books from Athena Institute
---
A 1996 published study by Dr. Winnifred Cutler of the Athena Institute for Women's Wellness, Inc. and her colleagues shows that engaging in coitus during menstruation is associated with heavier bleeding patterns in perimenopausal women (median age: 48.8 years). See the full published article
Published in the Journal of Psychosomatic Obstetrics and Gynecology (1996, vol. 17, pp. 149-157), the study tracked menstrual flow and coital behavior during the perimenopausal transition years as part of the Stanford Menopause Study, which was structured and conducted by Dr. Cutler and her colleagues.
Current research indicates that about half of women experience increased menstrual flow during their 7 transition years preceding the final cessation of menses, known as menopause.
Of the Stanford perimenopausal women who bled more, 83% also stated they engaged in sexual intercourse during menstruation. Among the women who reported diminished menstrual flow, 90% said they abstained from coitus during menses. Further analysis of the sexuality data showed that the women who abstained from coitus during menses were as regular in their coital activity -- and as orgasmic -- at other times as women who did have intercourse while bleeding.
Dr. Cutler explains the study's significance: "In order to understand the impact our findings will have on the state of women's health, keep in mind the following:
A majority of American physicians consider perimenopausal women with increased or unexplained bleeding as prime candidates for hysterectomy and simultaneous castration (ovariectomy) click for more.

About 12 million U.S. women are in that perimenopausal transition.
Our study suggests that increased bleeding may be explained at least partially by the woman's sexual behavior: they have intercourse while they are menstruating.

Therefore, women at risk may have on hand a preventative tool to test whether abstinence during menses might prevent unnecessary hysterectomies. The knowledge of this study may remove a pretext for hysterectomies and properly reduce the excessively high rate in the United States."
Dr. Winnifred Cutler is President and Founder of the Athena Institute, a biomedical research institute in Chester Springs, PA. She earned her Ph.D. in biology from the University of Pennsylvania and did post-doctoral work at Stanford University in behavioral endocrinology. She co-discovered pheromones in humans in 1986.
---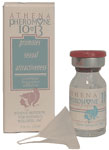 ---
Co-authoring the study with Cutler are Dr. Norma McCoy, Professor of Psychology, San Francisco State University, San Francisco, CA and Dr. Erika Friedmann, Professor of Biology and Chair, Dept. Health and Nutrition Sciences, Brooklyn College.
See the full article
A bibliography of Dr. Cutler's Published Work.
" My research has consistently focussed on what behavior a woman can engage in to increase her power, well-being, and vitality."
---Winnifred B. Cutler, Ph.D.
A portion of the profits from our book and pheromone sales helps to fund Athena's on-going research.