Athena Institute Funds Hospice Volunteer Program for Pre-med Students

---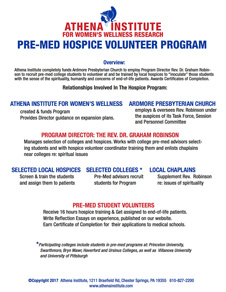 Click Synopsis here
to see full size
The overall mission of the Athena Institute Pre-Med Hospice Volunteer Program has been; to instill in pre-med students a sense of humanity and understanding towards the geriatric patient and 'end-of-life' care through hospice service... and to provide patients an opportunity to educate these young students in how to listen to their needs.
*Read the 2016 and later Program Graduates' REFLECTION ESSAYS* (click here)
*Read the 2015 and earlier years Program Graduates' REFLECTION ESSAYS* (click here)
* A message from Jodi Domsky: Coord. Health Professions Advising at Haverford College (click here)
Launched in 2007, the Athena Institute Pre-Med Hospice Volunteer Program updated its program collaboration in 2011, and continues to evolve and improve ... expanding its reach each year.

Dr. Winnifred Cutler, President and Founder of Athena Institute for Women's Wellness, explains;
"Athena Institute believes that this grant and program will help inspire students to choose geriatric medicine as their field, a specialty that is presently underserved.

As presented in our Synopsis, the benefits are cascading; Pre-med students experience the care and services provided by hospices; in turn hospices and their patients benefit from the students' help, and the church benefits from its local outreach into colleges.

Athena Institute truly appreciates the willingness of the individuals and the institutions to participate in our program to help instill in future physicians the humanity and spirituality in end-of-life caregiving"

***

The Athena Institute Pre-Med Hospice Volunteer Program is coordinated by the Ardmore Presbyterian Church, under a grant from Athena Institute for Women's Wellness, with outreach to hospice institutions and area universities.


The Program Director, Reverend Dr. Graham Robinson, has overseen the expansion of the program since 2011. Princeton and Eastern University were added as Pre-Med Hospice learning centers in 2014, and Villanova, University of Pittsburgh, and Ursinus for 2015. Robinson's doctoral work focused on creating environments of healing after communal loss. He brings exceptional educational, spiritual, and leadership skills and twenty years of pastoral and teaching experience. Robinson has served as a guest lecturer and facilitator for Yale Divinity School, Hartford Seminary, and the Alban Institute, and he has been invited to preach from Oregon to Puerto Rico, and Washington state to Washington, D.C. Doctor of Ministry 2012, Columbia Theological Seminary; Master of Theology 1999, Master of Divinity 1993, Princeton Theological Seminary. Identified upon graduation as a leader within the church, Robinson was awarded the David B. Watermulder Prize for Church Leadership from Princeton Theological Seminary.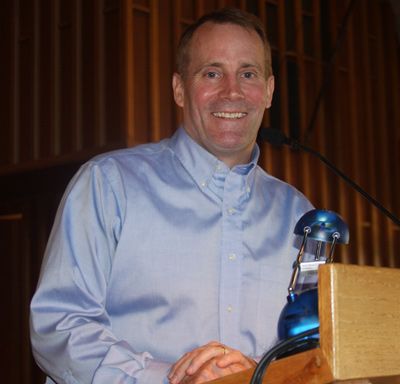 Click here to learn about our participating chaplains.

Read More about how the program has evolved over time.

***

The program coordinators successfully generate the outreach to, and interest from; college pre-health coordinators, hospice chaplains, and of course... the pre-med students. Applying students are told;
"Your participation will make a difference to hospice patients, their families, and the hospice team. Through exposure to the humanity, spirituality, and well being of end of life patients, you will gain experience, understanding, and distinctive credentials for your medical school applications".
In 2015-2016, 170 Pre-Med students applied to the Pre-Med Hospice Program from Princeton University, Haverford, Bryn Mawr, and Swarthmore College, Villanova University, Eastern University, Ursinus College, and University of Pittsburgh. 80 students were trained by six Hospices to care for Hospice patients. During the year, the Pre-Med volunteers were supported and shepherded by college chaplains and pastors who helped the students navigate the spiritual complexities of death and loss. Increasingly, the Pre-Med Hospice Program embraces and disseminates the expertise of the universities, Hospices, Chaplains, patients, and students to transform future doctors and create a world where compassion is more common and healthcare more humane.
For the 2014-2015 program year, 56 student applicants were accepted for Hospice Training and subsequent patient assignment from Bryn Mawr, Haverford, Swarthmore and Eastern colleges and Princeton University.
---