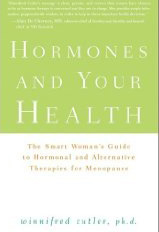 Click image to enlarge
order the book

Biologist Winnifred Cutler, Ph.D. invites purchasers of her books to submit questions for publication on this page.


Note: As a research author and Ph.D., Dr. Cutler is not a physician so her answers below are evidence-based reports from her years as a scientist -- not individual treatment or regimen recommendations.


---

New Questions appear at the top;


Answers are posted within 48 hours

A therapist writes to Dr. Cutler when her own gynecologist want her to stop taking Hormonal therapy that has improved her life.

April, 2014-- A Therapist Writes:


Hello, I purchased your book, Hormones and Your Health, when it first came out, and found it to be very informative, well researched, and readable. Could you please tell me if the information in the book, particularly in re: hormones and heart health, is still up to date?

I am 59 years old, started the estrogen patch pre-menopause, and have CVD which is managed with meds, but am otherwise in excellent health. My gyn is encouraging me to wean off the patch bc she says estrogen is thromboembolic, but this is scary to me, as my peri-menopausal symptoms were quite severe. Your book was instrumental in helping me make the decision to stay on HT. I am a therapist and have recommended your book to friends and clients. Thank you in advance for your response!

Thank you for this research! (click here for more)

The answer is as follows:

By 2014, the data of published studies have continued to affirm and extend the information published in my book concerning hormone replacement therapy. You might be wise to ask your physician for what studies she is using to support her perspective on your use of the estrogen patch, and whether it is possible to prescribe a patch containing estradiol rather than conjugated equine estrogens. And we hope you will offer her the link to the accurate picture summarizing the results of over 3000 studies with citations to about 900.


Here is the title and link..


Hormones and Your Health: The Smart Woman's Guide to Hormonal and Alternative Therapies for Menopause


I am a scientist not a physician and do not provide specific medical advice for your individual conditions, as I am sure you understand.

Studies have further extended our understanding of how low the risk of stroke actually is, how some oral estrogen can increase that risk while other oral formulations and non oral routes do not. Moreover, the worldwide body of research is in direct contradiction to the U.S. reimbursement-based medicine practices widely following "clinical practice guidelines". Medical societies appear to serve and protect their own members. Big Pharma likewise is a profit based system and there is much greater profit in providing separate drugs for depression, cvd, osteoporosis and the consequent sexual debilities that are a common consequence of age-related declines in the female sex hormones. Moreover, once FDA has approved marketing a new drug, no Big Pharma company will advertise that their patented regimen is not as good as cheaper alternative regimens. Their stockholders would take issue with their fiduciary responsibilities to them. For these reasons, women should take individual responsibility to optimize their postmenopausal aging process.

Economic considerations often take priority over what will benefit the health care consumer . Athena Institute works to offer women and the physicians who want summaries of the evidence, information they can use.


Athena Institute for Women's Wellness makes no profit from our conclusions about hormones and health, sells no clinical services, and has no financial relationships with drug companies, universities dependent on their funding, or medical societies who accept their contributions.


Lifestyle practices - as described in my book HORMONES AND YOUR HEALTH-The Smart Woman's Guide to Hormonal and Alternative Therapies for Menopause- take work but are well demonstrated to maximize health and quality of life. They tend to offer no profit and are rarely promoted by the time burdened physicians you might seek help from.

A horrendous harm has been done to women by withdrawing the beneficial hormone regimens that promote a wonderful quality of life for many years --since the misinterpretation of the WHI data. Even though the data were good, the interpretation in the media was incorrect.


Fortunately, each informed patient makes the choice of what she will do. We can choose physicians who recognize the limits of their expertise and are committed to practicing "evidence-based medicine" rather than "reimbursement-based medicine." So again, I encourage you to ask your physician for the evidence since "practice guidelines" do not constitute evidence.

For women willing to do the work of learning what is really demonstrated by the evidence, we offer the information. It takes energy to preserve and improve the best quality of life as you age. And it is well worth the practice.


I encourage you to protect your health with excellent health habits described in the book. And please continue to visit our website for updates.
*A friend of Athena Institute writes to Dr. Cutler on her experience with mammography and over-testing within the 'breast-cancer industry' ...

December 2013 -- Susan says;
Dear Winnifred,
I am haunted by the terms, 'spontaneous regression'...... How many poor women have been treated for Breast Cancer when it just was not there? When I show up at age 63, hormones, dense-breasts, late maternal age, they want to hit me with everything! (for more on Breast Density and hormones click here).

My doctor who gave me an OK exam told me that being on hormones meant annual mammograms. I did so begrudgingly. When I got to my hospital's 'breast dept', they came at me BIG Time! They want me back now 6 months after the initial barrage of too much radiation, and ultrasounds. I am not going back for more.

I remember the face of the ultrasound technician saying, "There is nothing here!" (She was not supposed to say that....but it was very obvious.) The bill was not fun either.

When is this going to stop! I can slow this train down (for myself) but the Breast Cancer Machine has the women of this country totally terrified!

Thank you for this research! (click here for more)


Dear Susan,

Thank you for sharing your comments and experience with our women readers. I hope our recent addition to our website offering several published studies and further research on overdiagnosis and breast cancer, click here, will help many women like yourself understand the harms of overdiagnosis and mammography.

Best wishes,

Winnifred


*After menopause at 46, hrt helped me feel like myself again... But then after a breast cancer diagnosis and successful treatment, my physicians are discouraging my hrt?
February 2013 -- Molly asks

Dear Dr Cutler - I was so relieved to find your book, Hormones and Your Health, at 47 years, one year after I went into an extremely difficult menopause - emotions, severely disturbed sleep, urinary tract difficulties. After reading your book, I began taking Prometrium 100 mg 21 days per month and at 48, Vagifem 10 every 4 days. I felt like myself again for the first time in years and was so grateful! I told everyone I could find about your book, including my GP. Unfortunately, at 49 I was diagnosed with a small triple negative breast cancer and have spent the last 7 months in curative treatment. In spite of my hormone negative status, my oncologists are quite insistent I go off my hormones. In one week I will be 50 (too young to be an old woman!) and I am very concerned I will go back to not sleeping and getting up to use the bathroom many times through the night. Can you offer any advice for young breast cancer survivors like me? Or suggest research I might bring to my GP to begin our conversation? I know you probably don't have time to answer every individual email - thank you so much for your work!

Dear Molly,

I am glad to know my book was helpful and sorry to learn about your problems. As you know, I am a scientist, not a physician and not licensed to practice medicine or make medical recommendations. My published work can tell you what I have learned. Our whole theme in forming and trying to grow the Athena Institute for Women's Wellness is to offer the data that women can use to work with their doctors. Our mission is to help improve the quality of health care for women by offering the information for women who are willing to do the work of learning about their bodies and the studies relevant to them so they can interview and evaluate a potential physician whom they they are considering for consultation.

Perhaps you need an expert who is focused broadly on the whole person rather than solely on oncology to help you with your hormone needs.

The breast chapter (click here for excerpt)of Hormones and Your Health: The Smart Woman's Guide to Hormonal and Alternative Therapies for Menopause does review the benefits of hormones after breast cancer. You certainly deserve good evidence-based medical advice and should ask to see scientific published studies showing proof of conclusions in order to evaluate which advice you want to follow.

We have extensive information on our website that I hope you will access. Please consider beginning with our study published in the newsletter InFocus (click here) which is published by the International Menopause Society and circulated to its members and the scientific community.

They invited my review, and the longer version of the same paper will be published 3/16/13 in the journal Climacteric (click here). I wonder if your experience matches what is described there?

Again thank you and best wishes!

Sincerely yours,


Winnifred Cutler, PhD
* My gyn suggested I "wean off" or lower my dosage of HRT but I am doing well on it -- what do you think?
September 2012 -- Julie asks


Hi Dr. Cutler, last time I contacted you, you suggested I read your book, which I did. I am currently on bio identical HRT from a compounding pharmacist. I am 56, and in very good health, not overweight, do not smoke and exercise regularly.When I saw my new gyn last week, she suggested sometime in the near
future we discuss weaning my dosage down to get me off the hormones as much as possible. She said there have been newer studies indicating some risks of long term use. I asked for these studies so I could read and decide for my self, but none have been forthcoming. I would appreciate your insight on this matter, and keeping me informed about any current studies on the effects of HRT.

Dear Julie,
So nice to hear from you. I am glad you read my book, Hormones and Your Health and hope you found it helpful. Also glad to hear that you are taking great care of yourself.

Unfortunately your recent negative experience with your gyn probably happens too often -- but hopefully more and more women like you will realize they are 'consumers' and can choose their doctors. Click here for details on finding the right doctor.

Often the media misinterprets 'science' and the resulting headline gets a lot of (undeserved and damaging) attention - giving mainstream women the wrong message, I think.

So we continue to try to post the right messages on our website, for instance, in response to an article in US News & World report back in April covering a 'study' which had not been accepted for publication but merely presented, about long term estrogen therapy, I wrote:

"Smart women should consider the variables of a study before accepting one 'conclusion' applies to them personally. What type of hormone was taken, by whom, when, and how? There is a substantial outcome difference shown in studies that test synthetic progestins vs. human bioidentical progesterone. Most media reports fail to distinguish this key difference." Click here for more details


As my book has described, several overriding principles seem to emerge, after a 30 year experience studying the literature, writing medical and lay texts, and recognizing how scientific studies are conducted, their limitations and their powers to inform.


Any one study uses a specific sample size, applies a stated method and asks a few questions of that sample. No one study can produce definitive answers. But the composite body of several thousand of them can lead to some principles about how the female body seems designed to work while it is healthy, vigorous and sexually alive, with active bone metabolism, active executive function intellectually, and good cardiovasculature.

Then hormonal treatments are tested by Big Pharma that requires expensive and extensive research to achieve FDA approval. Once given, that Big Pharma company will want to promote its regimen, not that of a competitor. Biodidentical regimens are not patent protected and do not yield Big Pharma or Big Society revenues.

For these reasons, I have paid close attention to regimen, route, timing and dosage of HRT as well as matching the hormone as closely as possible to a chemical copy of the human, rather than the horse derivative or other formula.

Progesterone taken sequentially seems best; fits the design of bone metabolism, brain function, breast health, and probably sexual cycles. Click here for more on HRT regimens.

Best Wishes! Dr. Cutler
*Should I start HRT for the first time at age 60?
September 7, 2011 - Ellen asks:

I am post menopausal, about to be 60. I didn't do hrt during menopause, and regret the decision. As a result my bone density has thinned and I have noticed other signs of aging. I am incredibly fit, get tons of exercise and am in art school full time. My question is, is it beneficial to start taking hormones now? Do you recommend bioidentical hormones?


I will gladly purchase your book if it addresses these questions, but most writing on the subject doesn't.

Dear Ellen,

I see you have ordered Athena Pheromone 10:13 for Women and mentioned Jane Fonda's book as a source. To answer your question....

I think with cautions described in Hormones and Your Health, you might make the decision to start right away.. as you avoid the listed products and regimens that are explained as risky for breasts, bones, etc. The WHI recently claimed to show that women at your age, starting HRT for the first time did not increase their incidence of breast cancer compared to those starting at younger ages. But the WHI used a product I think women should never consider swallowing and I explain why in several chapters of the book (bone, breast, cardiovascular health).

The book is designed to provide women with the facts they need to make intelligent decisions for themselves and I think you will find it a useful reference book, highly rated for its accuracy by major competent analysts. (see reviews on book page)

If you decide you want to order a copy of Hormones and Your Health and let us know before your order is processed tomorrow, the book can be added to your package without shipping charges imposed. Again, thank you for your inquiry.





*Should my healthy ovaries be removed at hysterectomy?
May 10, 2011 – Leslie asks:

I am scheduled for a hysterectomy and bladder uplift by surgical stitches and some kind of lap band. The gynecologist suggests my ovaries be removed also. I am 57 years old, and post menopausal. I have read so much conflicting information. Can you give me some guidance? Should I keep my normal healthy ovaries or have them removed?

Dear Leslie,

Keep them! Women should not give away permission to remove their healthy ovaries.

Recently, removing healthy ovaries at hysterectomy was carefully examined in 126,000 nurses of the Nurses Health Study who had been followed from 1976 to 2005. The findings: It was never better to remove healthy ovaries.

The most sensitive risk was coronary heart disease; ovariectomy increases the risk of Cardiovascular Disease (CVD), the major cause of death for women. The earlier the age, the larger the risk. By age 50 an ovariectomy increases the risk of a first MI by 40% (RR = 1.4)

I am not a medical physician so cannot advise on personal medical conditions or make surgical recommendations. But I can tell you what my research has convinced me – that 'when in doubt, take it out' is a bad idea. In my book, Hormones and Your Health, I explain the research including the 2005 large study proving that at no age was it ever beneficial to remove healthy ovaries during a hysterectomy. Avoiding castration (ovariectomy) for sure until age 75 clearly benefits the long-term survival of women who undergo hysterectomy for a benign disease.

I introduced this important assertion in my earlier 1996 paper published in Menopause Management (NAMS), suggesting that the practice of prophylactic castration - surgical removal of healthy ovaries based on future possibility of disease - cannot withstand scrutiny. The possible devastation of ovarian cancer, which is rare, and already lower in women who have had a hysterectomy compared with women who have not, must be carefully balanced against the devastation of the removal of healthy organs from those women who are not likely to be at risk for ovarian cancer.

Surgical removal of gonads (castration) alters the hormonal environment in a number of different ways that may precipitate chronic health problems and increased costs. Moreover, hormonal regimens designed to replace estrogen alone overlook the many ovarian contributions of other hormones (like progesterone and testosterone) to the life of a maturing woman.
Before research papers began revealing many negative effects of such practice, healthy ovaries were routinely removed at hysterectomy in North America in the 70s and 80s… and unfortunately despite the facts, in 2005, data from the Center for Disease Control showed that 78% of women in the U.S. who underwent a hysterectomy between the ages of 45 and 64 were also castrated.

As consumers of health care, women who are informed will understandably demand their rights to make rational decisions. The increasing multitude of health giving functions from intact ovaries continues to be discovered as research studies progress. I hope that as women recognize the hormonal contribution of (even aging) ovaries… they are likely to say "no" and react strenuously against the suggestion they be castrated.
*How do you explain media "alarm" about HRT and breast cancer?
January 31, 2011 -- Keith asks:

What is your opinion on the current headlines (adding further follow up to the WHI study from 1993 inception) claiming HRT dramatically increases risk of breast cancer?


Dear Keith:
I believe you are referring in your question to another analysis of the Women's Health Initiative study which in 1993 began enrolling women and on 5/31/2002 suddenly stopped the study. Now in 2010 they are reviewing the damage that has been done to those women.

The WHI (Women's Health Initiative) was a study of close to 17,000 women who enrolled to test one particular HRT regimen that I have long argued is an unhealthy product, since it used a synthetic Progestin every day along with Premarin - a pregnant horse urine extract of conjugated EQUINE estrogen. The progestin they tested (Medroxyprogestrone Acetate) has been demonstrated to have serious side effects, which do not occur when women use the natural human bioidentical progesterone that has been found to be without these side effects.

The natural rhythm of the female endocrine system during the fertile years, is to secrete estrogen every day of the month and progesterone only the last half of each month -- for about 15 of the 29 days of each fertile cycle.

So....the WHI tested a product that is not a good one, in a regimen (continuous combined) that is not a good one because it violates the natural sequential rhythm that the female metabolic cycles of bone, breast cells, and cognitive function have been shown to thrive on.

Then... the WHI had the women take the drug by mouth (orally) which the studies have shown is a bad way to take estrogen hormones because the route through the digestive tract, delivers dramatically high doses to the liver, undiluted by the 6 to 7 liters of blood which should first dilute the hormone. This delivery route to the liver elevates triglycerides and can cause damage to the cvh system. This bad route violates fundamental biological principles. Sublingual routes like I recommend, where the hormone is absorbed through the mucosa directly into the blood stream bypassing the liver, produce good effects.

In addition... the WHI tested a sample of women who started the regimen, on average, 17 years AFTER they had passed through their menopause. Too late to be preventive. The women in the group were largely overweight to obese, with a high use of other drugs suggesting they were atherosclerotic already.

So I am not surprised that repeated evaluations of this one group of 17,000 women, half of whom tested placebo and half who tested one bad HRT drug, taken through one oral delivery route that is ill-advised, at an age and condition where the women were fat, unhealthy and already at high risk of diseases, has continued to produce bad results.

The sad thing is that none of the news clips have the perspective I have just conveyed. Bad drug, wrong time of life, not generalizable to a good drug, administered correctly. Hormone Therapies are not all the same; and I don't believe in a 'one size fits all' application from one study for all women. Like salt, some is great. The wrong amount is damaging to health
*How does your book, Love Cycles, explain the science of attraction?
December 9, 2010 -- Bob asks:

As a former academic, I appreciate the science behind the work of the Athena Institute. As you know, there are similar offerings on the web that read like classic come-on pitches. That's the reason I purchased your product.

I'm 75 and recently lost my life partner to cancer. Given the joy and nurturing of that relationship, I'm interested in a new long-term relationship. However I've noticed that many clients only use the pheromones for playing the field.

Now to my question: If I successfully use the pheromones, I'll let my new partner know that I've used your product. I believe honesty is essential in any in-depth relationship.

Have the new partners of other users who reveal the role of your pheromones felt unfairly "tricked" into their together- ness? That wouldn't be a good way to begin a new adventure.

I've skimmed my new copy of Love Cycles and not found a reference to this aspect of a pheromone-based relationship. Can you point me to advice for avoiding the possible pitfalls of openly sharing this information with a new partner?



Dear Bob,
We have recently begun this forum on our website so that people like you who have bought one of my books can ask a relevant question to it for me to ponder, try to offer an answer for you,, and others who might be asking the same question. I plan to post your very thoughtful question so that the time I take to answer you personally can serve others as well. We will keep your identity anonymous of course.

Thank you for your inquiry. I think it is wonderful that you have had a beautiful relationship in the past and can recognize high quality as you prepare for your new search. We find an enormous range in the uses - i.e. the testimonials, that people offer as they enthusiastically place reorders. "Playing the field" is about the most trivial a pursuit we hear and probably confined to the young persons who have not yet matured to recognize the richness a monogamous relationship can bring to their lives. So, the ways in which people tell us that our Athena pheromones have helped them is more a reflection of their own values than of one set "playing the field" use. Probably the younger and less mature purchasers want the power they feel from being attractive enough to widen the field in which they move but we have an enormous number of repeat customers whose needs and interests are more like the ones you describe.

As to timing and disclosure and standing. If you use a toothbrush to remove bacteria, you probably do not feel compelled to explain this early in the search for a new relationship. If you exercise faithfully in order to produce a fit body, one that you can proudly present as attractive to a new partner, you probably do not feel compelled to be "honest" and explain this either. It would likely be downright boring to hear a new date cataloging what he does to be attractive. I think that what you "present" to women is the composite aggregate of your best self, honed through wisdom, self discipline, and an interest in attracting a partner you can enjoy. So adding Athena Pheromone 10X™ for Men to the mix is just plain smart. Many women buy 10X and put it in their husbands fragrances in order to enjoy their husband more.

I believe that what we do to make ourselves more attractive is a reflection of our social skills and our native intelligence. Education helps so I am glad to know you will be reading, rather than skimming Love Cycles.

But one of my other books more directly addresses the question of what to say, how soon to say it, standing (i.e. at what point in an evolving relationship does it become both helpful and relevant to disclose one's own personal grooming processes). Although it is written for women, I find that men seem to find it helpful too. It is available at libraries and on our site. Searching For Courtship: The Smart Woman's Guide to Finding a Good Husband

Best wishes in your new experiences. I think you are at the start of a great new adventure!








*Some reports say HRT increases risk of cardiovascular disease?
December 1, 2010 -- Gail asks:
"I recently read in the Philadelphia Inquirer (11/22/10 Health & Science) that hormone therapies increase a woman's risk of cardiovascular disease. Is that correct?"

Dear Gail:
No it is incorrect! The scientific facts actually show the opposite. By 2005, researchers found that hormone-using women under 60 years old had significantly better likelihood of cardiovascular health. They reviewed 30 different studies involving 27,000 postmenopausal women. The conclusions of this massive review are:

It is reasonably clear that hormone therapy reduces cardiac events and total deaths in younger postmenopausal women;


These benefits are not initially seen in older women who start hormone therapy after many postmenopausal years have elapsed. The women who enrolled in the WHI were, on average 20 years post menopausal. HRT increased the incidence of cardiac events in the first two years of late onset use.


Once older women have been using hormones for 2 years, there is no compelling cardiovascular disease reason to stop because after 4 or 5 years of hormone use the risk of cardiac problems declines.
*Which foods do you recommend to get my calcium?
*Which hormone products do you recommend?
November 15, 2010 -- Nina asks:
"I have just finished your Hormone and Your Health Book. OUTSTANDING! I am an RN and your info is the most complete and very easy to understand. I do have a couple of questions; What type of estrogen and progesterone sublingually do you recommend? and Which foods will give me 1200 mg of calcium per day? I have an asthma condition and have been told to "go easy" on dairy... Thank you so much for making this material about hormones available to us women, myself a senior. I did go off premarin one year ago."

Dear Nina:
I am glad you found my studies for Hormones and Your Health helpful. So.. for your first question on hormones...

For the Estrogen component, estradiol is the estrogen that seems most universally beneficial and the 17 beta estradiol product is widely available by prescription for products from Big Pharma, generic substitutes and compounding pharmacies. As you know I like the sub lingual delivery system because there is no absorption problem as is characteristic of patches or creams. Some women absorb creams and patches easily. Others don't. Unfortunately taking estrogen by pill that you swallow also has some problems. It can cause an excess burden on the liver leading to elevations in blood lipids like triglycerides.

Your physician can prescribe the dose of estradiol she thinks best in collaboration with your feedback and you can place uncoated pills under the tongue instead of swallowing them. It takes about 10 minutes for the pill to break down to powder and disappear across the mucosa under the tongue as it is absorbed directly into the blood stream.

For the Progesterone - as you saw in my book, I favor requesting progesterone, not any of the synthetic progestins. The synthetic progestins are very profitable for the purveyors but I do not think they make sense for women. Patent protections generate powerful marketing influences to physicians. Table 3.3 lists the 19 synthetic progestins I would reject because each has been shown to have adverse effects that were not found in the human bioidentical progesterone. Progesterone is available from Big Pharma, generic substitutions, and compounding pharmacies.


Next.. for your question on calcium.
Although you seem to think you need 1200 mgs of calcium per day, I doubt that you really need so much. If you are getting your calcium from food, and taking HRT the amount you need probably is closer to 700 mgs.

Yes, the calcium requirement is lower when you are hormone rich! One more benefit of using HRT correctly. I think the 1200 mgs per day idea was promoted by supplement manufacturers wanting to sell their pills and recognizing the reality - that absorption from most of the pills is lower than 25%. In other words, if you swallow 1000 mgs of calcium supplement pills that have been boosted with vitamin D, you actually absorb only about 250 to 400 of these mgs. The rest of what you swallowed never gets out of the digestive tract but passes right out into the toilet bowl.

Our bodies's digestive systems are designed to digest food, not pills and every study that compared food to pills showed the same thing. Food is dramatically better as a source of absorbable nutrient. As to which FOODS the table on page 63 shows the calcium value of about 50 foods to get you started. In addition canned salmon with the bones crushed into the mix, are very rich in calcium. Unfortunately, although many green vegetables do contain calcium, the oxalates in the vegetable bind the calcium tightly and inhibit absorption. So I would not suggest eating green vegetables as your source of calcium. The US Dept of Agriculture offers good data about all foods and their website should help you further.

I have no expertise on the interaction between a life long asthma vulnerability and the suggestion that you "go easy on dairy". I suggest you ask your doctor if one cup of plain yogurt (that you lace with whatever you like in fruit, nuts, honey, wheat germ, etc) and one cup of skim milk would be ok? That will provide you the 752 mgs you probably really need for only about 200 calories of very satisfying, highly absorbable calcium. On average,the studies I have cited showed that adults excrete about 700 mgs of calcium every day. If you do not replace the calcium you excrete, then your bones, which serve as the "bank" which holds 99% of your stored calcium, will give up their "holdings" - a little every day. It is much better to keep the bank intact as we age. We surely need our skeleton to be as strong as possible!
*What's wrong with continuous combined regimens?
Laura:
I had been on Prempro for about 6 years when my doctor told me to stop taking it. Why?

Dear Laura: Bad regimen, unsafe hormone.

Because that regimen, first developed in 1993, proved to be a bad one. Continuous combined estrogen with synthetic progestin was widely marketed to physicians and commonly prescribed to women. But it violates human female biology. It goes against Mother Nature. It is not surprising that the most recent studies show this kind of prescription – when compared to a sequential regimen - is bad for bones, brain, and breast.
*Why progesterone half of the month – whenever a woman uses estrogen?
Sarah:
Why do you recommend so strongly sequential hormones, i.e. estrogen daily, progesterone only the second half of each month? And you suggest this even after hysterectomy

Dear Sarah:

It is the healthiest regimen you can use

.



Because convincing scientific research proves the importance of copying Mother Nature by maintaining the sequential feminine rhythm of progesterone found in the premenopausal body: progesterone half the month, estrogen every day. This benefits every physiological feminine system, not just the uterus. Optimal functioning of the sexual relationship, (maintaining partner interest but also one's own) is enhanced by following that feminine sequence. Sequential progesterone regimens also protect against breast cancer, bone loss, memory declines, and visual loss.

Sequential HRT regimen research is not taught to busy physicians and your doctors have neither the time nor the training to study the biology on their own. They are busy seeing a waiting room full of patients, 15 minutes at a pop. And by the end of the day, they are usually exhausted.

FOOTNOTE:
The sexual dance between a man and a woman, generated by his and her hormonal rhythms are reviewed in my earlier book, Love Cycles: The Science of Intimacy, Many men have found it personally useful to learn how their hormones are affected by their partner's cycle.
*Which contraceptives are bad for optimal health?
Sheila:

I have read Hormones and Your Health. I am pre-menopausal, still having periods, age 48. I have osteoarthritis in both knees and am thin (ie. maybe due to sports, etc). I have been advised by my gynecologist to take NuvaRing as a birth control option. However, she said that progesterone in NuvaRing is released daily. Is sequential delivery significant in birth control as you explain it is in hormone replacement?

Dear Sheila: YES!
There are some significant studies that show why daily, steady levels of progestin are bad for your breasts, your bones, your memory and your sexual life.


Let's consider sexual life first. Sequential contraceptives did not turn off sexual interest in women but continuous release progestin did. Ironic, isn't it? The drug you take to enjoy sex without pregnancy can turn off the interest in being sexual. See the sex chapter of HYH (Hormones and Your Health) for details of the studies that proved this.
****
Women have approached Dr. Cutler to ask questions about hormone replacement therapy (HRT), alternative practices, and the care they deserve from an attentive and respectful doctor, since publication in 2009 of her 8th book, Hormones and Your Health: The Smart Woman's Guide to Hormonal and Alternative Therapies for Menopause. The book has been endorsed by many medical authorities, and is comprehensive for any woman who either has had a hysterectomy or is over age 40.

Questions posed by readers of any of Dr. Cutler's books, who buy a copy from Athena Institute, are answered below. Their questions and Dr. Cutler's answers are open to all without charge. Dr. Winnifred Cutler teaches what the scientific proof offers on issues that affect most women after age 40. (Obviously, specific medical advice for individual women's conditions must come from their own physician.)

As a reproductive biologist and published scientist with no university or drug company funding, Dr. Cutler is free to present the good news on HRT for women over 40; that with correctly prescribed regimens and delivery routes, women have a very good chance to avoid hormonal deficiencies that cause age-related declines in bone strength, blood vessels integrity, cognitive capacity, brain size, vision, memory, breast health, and sexuality.

There is some urgency. Taking early action can delay for 20 or more years becoming "a little old lady". The window is open, but it will shut. For women who begin using a healthy HRT regimen (many are not healthy), the news is wonderful. The unfortunate fact is many physicians get their information from medical societies and drug company sales representatives. Both sources serve their own special interests… that are not always aligned with the woman's best interests.

Physicians simply do not have the time that Dr. Cutler has spent studying, analyzing, and translating the best research for women. She is an expert on hormones who accepted 2 invitations to write respected medical textbooks for academic physicians. And she shares this knowledge with women and their doctors in Hormones and Your Health, which presents in understandable language, the results of 6 years of her research on which hormones are great and which are not. And why. Armed with knowledge, a woman knows what questions to ask her doctors, what advice to accept, and what to reject.

We hope all women will benefit from visiting this page. If you want your own question posted, please support our mission of working to improve the quality of health care for women by purchasing books from our site. Please submit your questions and comments for Dr. Cutler to Glynis Gould, Research Communications Manager.


See interview of Dr. Winnifed Cutler on Hormones And Your Health
See the full book description and table of contents
---
Please revisit this page for new questions and answers