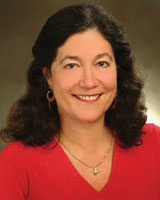 Winnifred Cutler, Ph.D.
Founded Athena Institute in 1986
---
Dr. Winnifred Cutler, B.S. in Psychology cum laude from Ursinus College in 1973, earned her Ph.D. in Biology from the University of Pennsylvania in 1979 followed by postdoctoral work in behavioral endocrinology at Stanford University. In 1985 she co-founded the Women's Wellness Program at the Hospital of the University of Pennsylvania. She has published over 35 scientific papers, is co-inventor on 5 patents and author of eight books on women's health translated into 7 languages - including her newest book, Hormones and Your Health: The Smart Woman's Guide to Hormonal and Alternative Therapies for Menopause (April 2009) with essential information for women over age 35 to achieve their 'personal-best' health.
---
As a graduate student with Celso-Ramon Garcia, M.D.
My former mentor, Celso-Ramon Garcia, MD, died Feb. 1, 2004 at the age 82. His many obituaries chronicle his important role early in his career clinically investigating the first oral contraceptive, "The Pill". Dr. Garcia was an incisive intellect and a peerless surgeon who trained many outstanding gynecologic surgeons. His impact on women's reproductive health was historic. His impact on my path as a scientist was profound. We were coauthors on many research papers and 3 books. In one of them, Menopause: A Guide for Women and the Men Who Love Them, the preface states:
"By 1975, Winnifred Cutler, then a graduate student in biology at the University of Pennsylvania, had completed an intriguing pilot study: it showed possible and striking relationships between the pattern of sexual behavior of young women and their pattern of menstruation;. Since she needed a mentor, her faculty in biology advised her to find a professor in gynecology to supervise her studies. Dr. Celso-Ramon Garcia, Professor of Gynecology, one of the "Fathers" of the oral contraceptive, a scholar and educator,was interested in the pilot work and agreed to become involved in its development. Throughout a seven year tutelage, Dr. Garcia helped Dr. Cutler locate the classic,often forgotten works that had laid the foundation for the development of modern reproductive endocrinology. He listened to her ideas and provided critical feedback that helped to direct and enhance the growth of her work."
---

December 1985, Dr. Cutler and Dr. Garcia co-founded the Women's Wellness Program at the Hospital of the University of Pennsylvania
HUPDATE, the newsletter of the Hospital of the University of Pennsylvania, p.11 stated:

"FOCUS ON PREVENTION AND WELLNESS-WOMEN'S WELLNESS PROGRAM OPENS"


Hospital staff and invited guests [celebrated] the opening of the Women's Wellness Program on November 4.

Dr. Charles Buck [Executive Director of HUP's Board of Trustees] congratulated the founding directors of the program, Celso-Ramon Garcia, MD and Winnifred Berg Cutler, PhD. ***

Click Here to Enlarge Photo


With the background of having established Philadelphia's first complete family planning service, the area's leading infertility clinic, a well-recognized conservational gynecologic surgical attitude, and a continuing motivation to improve health care of women, Dr. Garcia, medical director, and Dr. Cutler, research director, are organizing the Women's Wellness Program. This program focuses specifically on health concerns of women over the age of 30.***

The colleagues, who have been associated since Cutler first came to Penn as a graduate student, say that they hope to achieve a "dynamic interaction" by wedding research to clinical practice. ***

In addition, a staff of Penn experts and consultants will provide women with comprehensive services that, according to Dr. Cutler, differ from those offered in other centers. Women in the program will have a complete, individual health evaluation twice a year. Dr. Garcia sums up the team's philosophy: "We consider health a birthright. Thus, we aim to provide excellent care; the care that women deserve."
---

Groundbreaking Research on Women's Health with her colleague and friend, the late Elizabeth Genovese, M.D.
Dr. Elizabeth Genovese, received her bachelor's degree Phi Beta Kappa from Harvard University, M.D. and MBA degrees from the University of Pennsylvania and was board certified in Internal Medicine.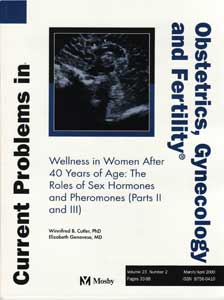 " Her intellectual output was dazzling and she was an extraordinary colleague. Elizabeth was an astonishing force, a contributor to our work on women's wellness, a scholar, a physician, and a loving mother to her children. I do miss her."
Dr. Genovese co-authored many scientific papers with Dr. Cutler on kyphosis, stress urinary incontinence and sexuality. They wrote, Wellness in Women After 40: The Role of Sex Hormones and Pheormones in 2000., for Current Problems in OB/GYN, Mosby, Inc. (120pp, 250 refs).

---
Research in the 1980's and the Pheromone Discovery

The Washington Post , 11/18/86.


Pheromones Discovered in Humans

"Scientists in Philadelphia have established for the first time that the human body produces pheromones."

Also in 1986, her co-discovery of human pheromones received major news coverage in Time (12/1/86), Newsweek (1/12/87) and a front page story in the Washington Post newspaper, (11/18/86) because it established the first scientific proof that human pheromones affect the relationship between men and women.

"It's remarkable. A very clear pattern has been emerging and it confirms that a woman's optimal reproductive health is a part of a finely tuned system and that a man, on a regular and sustained basis, is an essential part of it," said Cutler, who has led the research effort.

"It wasn't clear until our most recent studies how important male essence really is," she said, "but now that we know this, it helps to explain our earlier findings. You might say that exposure to pheromones is the essence of sex."
---

Pheromone Discovery -- Media Highlights

Newseek, 1/12/87


The Chemistry Between People: Are Our Bodies Affected by Another Person's Scent?


Now two new studies are stirring up the pheromone debate with the boldest claims yet. Researchers at the University of Pennsylvania and the Monell Chemical Senses Center, a nonprofit research institute in Philadelphia, say that people produce underarm pheromones that can influence menstrual cycles.

The studies, done by chemist George Preti and biologist Winnifred B. Cutler, are not the first of their kind, but they are the first ones rigorous enough to be published in a respected scientific journal, Hormones and Behavior.

Cutler's conclusion: " Male essence" contains at least one pheromone that "helps promote reproductive health".
for more details click here




Time Magazine, 12/1/86

Studies find that male pheromones are good for women's health


Last week Philadelphia researchers weighed in with two reports showing that scents, including underarm odors, do indeed affect menstrual cycles. The reports came with a kicker: male scents play a role in maintaining the health of women, particularly the health of the female reproductive system. Researchers at the Monell Chemical Senses Center and the University of Pennsylvania School of Medicine have found that women who have sex with men at least once a week are more likely to have normal menstrual cycles, fewer infertility problems and a milder menopause than celibate women and women who have sex rarely or sporadically.

So the researchers were hardly tentative about the meaning of it all. "What we're saying here is that men are really important for women," said Winnifred Cutler, a biologist and specialist in behavioral endocrinology who conducted the study along with Organic Chemist George Preti. "If you look at all the data, the conclusion is compelling. A man or his essence seems essential for an optimally fertile system."



USA Today, 11/19/86
The Real Chemical Reaction Between the Sexes

Chemicals in men's bodies can cause their female sex partners to be more fertile, have more regular menstrual cycles and milder menopause, landmark research shows. And women who have sex with men at least once a week benefit most from the chemicals, which apparently work through the sense of smell.


"The exciting part is the effect we have on each other. Men are important to women," says Dr. Winnifred B. Cutler of Philadelphia, whose studies show for the first time that chemicals called pheromones exist in humans. Pheromones have long been known to exist in animals, as scents that attract sex partners. Cutler's new studies...show women are affected by pheromones from men and women: for more details click here
---
Events from 1986 to Current Day:
In 1986 Dr. Winnifred Cutler founded the Athena Institute for Women's Wellness, Inc. as a research organization; to focus on women's health care and to develop the two pheromone formulas. A year prior, Dr. Cutler had initiated and co-founded the Women's Wellness Program at the Hospital of the University of Pennsylvania. With Athena Institute she extended the same mission and, enlisting the help of her colleague the late Dr. Elizabeth Genovese, conceptualized a 'program' for overall health; an evaluation, health maintenance overview, and methods of incorporating nutritional and exercise habits to ensure well-being. This founding goal -- to empower women with the most current research and accessible information for their best health plan has remained the inspiration and focus for Dr. Cutler's books and science publications over the years.

In one of her books, Love Cycles: The Science of Intimacy (Villard/Random House), she chronicles her discovery of human pheromones, and helps readers who are already in a relationship to enjoy greater intimacy and improve their sexual lives. In Searching for Courtship: The Smart Woman's Guide to Finding a Good Husband (Villard/Random House), she teaches women how to enjoy the process of finding a good husband starting from the biological basics. Dr. Cutler developed this book into a multimedia workshop kit for individual use or for organized workshops.
---
---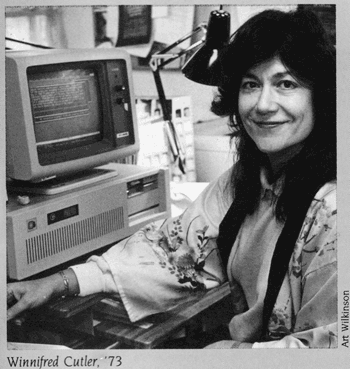 In 1980 in the American Journal of Obstetrics and Gynecology, and 1987 (with colleagues) in the journal Human Biology, Dr. Cutler published her papers marking the discovery of lunar and menstrual phase locking and lunar influences on the reproductive cycle of women.
In 1992, Dr. Cutler was named U.S. Business Owner of the Year by the National Association of Women Business Owners. In 1996, Cheltenham High School (PA) elected her to its Alumni Hall of Fame for her personal and professional achievements. In 2001, Ursinus College presented Dr. Cutler its Alumni Award for outstanding professional achievement and service to the college.
---

In 1993 Dr. Cutler formulated, tested and marketed a pheromone cosmetic fragrance additive for women, Athena Pheromone 10:13tm and in 1995, an aftershave additive for men, Athena Pheromone 10Xtm the subject of a double-blind, placebo-controlled study published in Archives of Sexual Behavior, Vol. 27, No.1, pge 1, February 1998.
---
Upon invitation in May 1999, Dr. Cutler gave a seminar, Pheromones as Sex Attractants, to the American College of Obstetricians and Gynecologists for Continuing Medical Education Credits. With Dr. Elizabeth Genovese, she wrote a monograph titled Wellness in Women After 40: The Role of Sex Hormones and Pheromones for medical practitioners reissued in the journal Current Problems In Ob/Gyn, (Mosby Inc, 2000, 120pp, 250 refs.)
In June 2000, Athena Institute awarded a $25,000 research grant to Cindy Meston, Ph.D. of the University of Texas at Austin, for research that was ultimately published in the February 2004 journal, Archives of Sexual Behavior, The Effects of Hysterectomy on Sexual Arousal in Women With a History of Benign Uterine Fibroids.
Additional funding of grant money from Athena Institute for the study of sexual deficits in post-hysterectomized women was awarded to Dr. Julia Heiman, Director of Kinsey Institute in May 2006.
In April 2002, at the Annual Meeting of the Society for Behavioral Medicine in Washington , D.C., Dr. Cutler presented her poster "Human Sex-Attractant Pheromones: Efficacy Studies..."

At that same meeting Dr. Joan Freibely of Harvard University presented a poster of the study in Boston of postmenopausal women led by Susan Rako, M.D. This independent study tested Athena Pheromone 10:13 and demonstrated its efficacy in increasing sexual attractiveness for postmenopausal women. The Boston study was published in 2004 in the peer-reviewed journal, The Journal of Sex Research (Pheromonal Influences on Sociosexual Behavior in Postmenopausal Women. Rako, Freibely. Nov. 2004).
In June 2002, Dr. Cutler's invited article on pheromones and sexual attractiveness was published by Climacteric, the peer reviewed journal of the International Menopause Society.
At the annual meeting of the American Psychiatric Association in New York in May 2004, upon invitation by Barbara Bartlik, M.D. of New York Weill Cornell Medical center, Dr. Cutler presented as part of a symposium on women' s sexuality her seminar, How Sexual Attractiveness, Pheromones, Fertility and Hysterectomy are Related.
The following year in October 16-19 2005, Dr. Cutler presented her poster to the American Society for Reproductive Medicine at their annual meeting in Montreal, Quebec Canada "Evidence that Sex Attractant Pheromone Effects Strengthen with Continued Use."
In 2006 through 2008, the Athena Institute Hospice Project was launched -- awarding a research grant to local church organizations intended for a collaborative effort by pre-med students, college advisors, and hospice administrators to provide volunteer service to elderly hospice care recipients. This research project complements the guide to applying to medical school which is available for premed students on Athena Institute's website; conceived by Dr. Cutler and written by one of Athena Institute's valuable interns.
---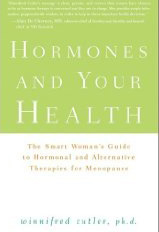 In 2009, after six years of research and writing, Dr. Cutler's most recent book on the hormonal health of women over 35 was published. "Hormones and Your Health: The Smart Woman's Guide to Hormonal and Alternative Therapies for Menopause" (John Wiley & Sons, Inc.) presents state of the art research, exciting medical breakthroughs, and current information on topics such as nutrition, hormone replacement therapy, bone preservation, breast cancer and mammography, and overall health for women and their physicians to help as an essential guide to better health practices.
"Winnifred Cutler's message is clear, precise and correct that women have choices as far as hormone therapy is concerned and they are in charge. "
Alan De Cherney, M.D. Editor in Chief, Fertility and Sterility and branch chief at NIH research
---
In 2009, October, Dr. Cutler's oral presentation was accepted for the 65th annual meeting of the American Society of Reproductive Medicine (ASRM), titled Breast Cancer in Postmenopausal Women: What is the Real Risk?
In 2010, the International Menopause Society invited Dr. Cutler to review a recent paper suggesting breast cancer incidence seemed to decrease when the (2002) WHI study and subsequent media caused women to stop using HRT. In collaboration with Dr. Regula Burki, a member of the Research Advisory Group of Athena Institute, their commentary was published for the IMS membership newsletter and later in the journal Climacteric.
Then in April 2011, Climacteric subsequently published their commentary - Overdiagnosis may further diminish mammographic breast cancer benefits minimized by elegant study by Drs. Cutler and Burki; which had been previously printed in the society's e-newsletter.
That same month, Dr. Cutler presented a powerpoint presentation, HRT: The Role of Progesterone, to MLH physicians and staff for CME credit, at the Women's Health Symposium - Main Line Health System as part of the conference: Challenges and Controversies in the Care of the Middle-Aged Woman.

In June 2011, Athena Institute and Dr. Cutler announced the updated hospice program (originally launched in 2007).The Athena Institute Pre-Med Hospice Volunteer Program is funded through 2012 with a grant from Athena Institute.The program aims to encourage area pre-med students to volunteer services to local hospice patients, with the continuing efforts and enthusiasm of the Rev. Dr. Charles Grant of Bryn Mawr Presbyterian Church, Reverend Louisa Watkins Umphres, Pastoral Resident, BMPC, and Ms. Michelle Whipple, Director of Hospice Volunteers at Main Line Health of Jefferson University Hospitals. In 2012, the program accepted 17 exceptional students from Haverford, Bryn Mawr, and Swarthmore -- thirteen of the students finished the progam and were awarded the certificate of completion. For the forthcoming year of 2012/2013, Dr. Cutler and Athena Institute are pleased to welcome the program's new director, Rev. Graham Robinson. Please read the 2013 graduates' Reflection Essays click here.
In November 2011, the online newsletter of the International Menopause Society, Menopause Live, printed and circulated the commentary, Mortality reduction by widespread screening: not quite as effective as we all hope?... on breast cancer, mammography and overdiagnosis by Dr. Cutler and coauthors Drs. Burki and Kolter
In April 2012, Dr. Cutler presented a scientific poster at the annual meeting of the Society for Behavioral Medicine; "Logical Measurement Methods Yield Lower Breast Cancer Risk" co-authored by Regula Burki, M.D., James Kolter, M.D., and Cathy Chambliss, Ph.D.
In February 2013, Drs. Cutler, Burki, Kolter, and Chambliss paper first accepted as commentary for InFocus newsletter, then accepted as 'Short Review' in Climacteric journal, "Mammograms for Symptomless Women - Not So Wise?"
Dr. Cutler is a member of, and has presented her research over the years to: the American College of Obstetricians and Gynecologists, the International Society of Psychoneuroendocrinology, the North American Menopause Society, the American Society for Reproductive Medicine, and the Society for Behavioral Medicine.
Dr. Cutler continues to conduct new research at the Athena Institute funded by the sales of her books and cosmetic pheromone products.
The Athena Institute continues to offer paid internships to nearby college students in which they learn extensively from Dr. Cutler about the scientific method, office administration, communication skills, and small business operations management.