Welcome to the
Athena Institute
a biomedical research organization
founded by Dr. Winnifred Cutler, the biologist who co-discovered human pheromones in 1986.
We believe healthier behavior inevitably improves your physiology and your wellness
---
"I highly recommend you become an active manager of your health, making informed evaluations of the advice from medical professionals before granting them your informed consent to your treatment."--Dr. Cutler
Click on photo for her
scientific background

---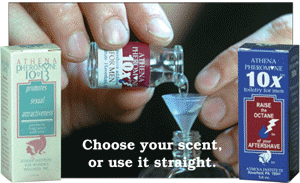 Let human pheromone power enhance your sexual attractiveness and increase the romance in your life.
Actual Customer Testimonial (name changed) - Joseph, MI
"Fabulous product. I was shocked when I first got it and tried it. You know, you hear all kinds of things about pheromones and don't know what to believe. But you guys were very well respected, you have gone through the double-blind studies. You did the research!

Well even so, I was shocked at how well 10X works. You have a fabulous product. I am married and with my wife only. Well, within 5 days it was amazing. The affection level went up 20 fold. I am so grateful to you, Dr. Cutler. Thank you so much for your research!"
---
---
An Excerpt from Dr. Cutler's WebMD.com interview:

Moderator: Based on your discoveries about love cycles, what are most Americans doing wrong with regard to their sexual practices?

Dr. Cutler: I don't think I'm qualified to summarize what most Americans are doing, but I can speak to what I think is a great way to live. And that begins with monogamy, restraint, respectful attention to others, and to making a contribution to the well being of others. And I think that when you carry that attitude into relationships, there is reciprocity that sets in motion ever more loving relationships. And it takes time to grow relationships. And so, as in Love Cycles: The Science of Intimacy and in Searching for Courtship, I do focus on allowing time for this most important aspect of living, that is, the time for loving and to trying to bring that loving quality into the full scope of one's day.

Pheromones help, but they're not the whole picture. They increase your options because they increase the number of people who are interested in being attentive to you. And, that is the most common comment we've had from women who have used our product, is it makes men pay attention to them. Suddenly, men are interested in what they have to say and what they're thinking, while men tell us women are willing to listen to them."

(end of excerpt, click here for full interview)
---
Three double-blind studies of Athena Pheromones:
1. Boston Study of Post-Menopausal Women and 10:13
2. San Francisco State University Study of 10:13 and Reproductive-Aged Women
3. Philadelphia Study of 10X for Men
Related: Dr. Cutler's 2005 evaluation of these 3 studies shows Pheromone Effects Strengthen with Continued Use; presented to the American Society of Reproductive Medicine.
---
For the full reference list of Dr. Cutler's scientific publications click here